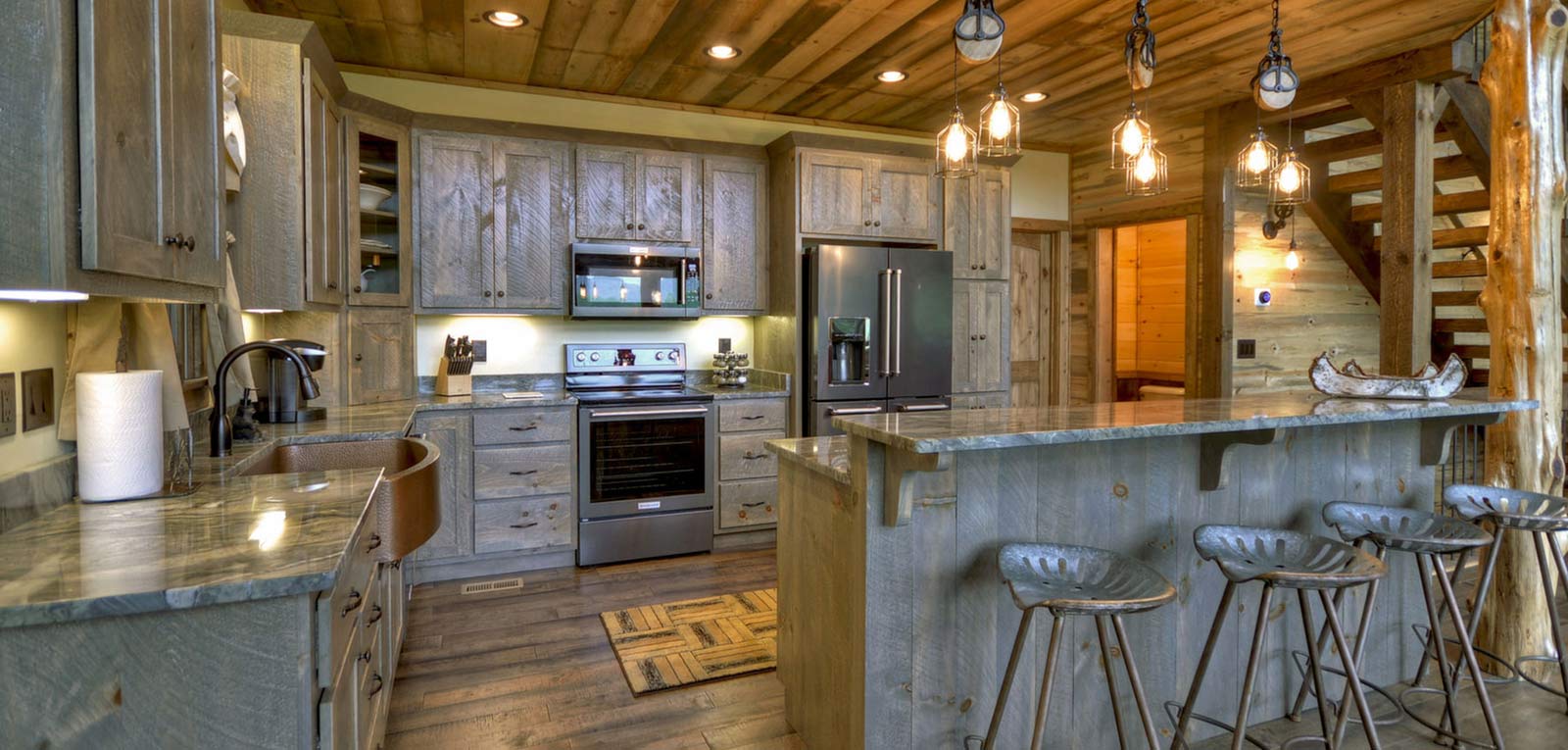 We recently moved into our new and beautiful custom cabin built by Jeff Watkins who came highly recommended by a friend and from the moment we met him we knew he was different, he is honest and a hard worker. We've built several custom homes, however, the service we received from Jeff was stellar in comparison.
He is honest, kind, professional, always available and he ensured that our vision came to fruition seamlessly. Not even the slightest detail was overlooked. Always making sure we were happy.
Jeff, thank you for your impeccable service and for building our dream cabin! We are forever grateful. We would definitely recommend you and if we were ever to build again we would use you.
Blessings,
-Bob & Eileen Richards
Our home was built by Watkins Home Builders in 2019. We were involved in selecting materials for the construction and were impressed by the quality and craftsmanship that went into making our home. The contractors accommodated the changes we desired as construction proceeded. We were impressed with the suggestions and improvements made by the craftsmen. We love our home and the attention to detail that went into making it our own. We followed up the initial home construction with an additional two car garage a year later. And once again, Watkins Home Builders completed the project in a timely manner during the pandemic scare. I highly recommend this builder. Nice people!
-Bridget Beck
Dear Jeff,
Spectacular! There is no other word to describe how our new home in Blue Ridge turned out. You and your team created a truly first class cabin in Blue Ridge for my wife and me.
We first saw your craftsmanship when we were shopping for a lot. When we asked the real estate agent, she told us you were among the best builders in the area. When we met you, we immediately felt comfortable that we could work well with you. And during the entire process, you were extremely responsive and accommodating, whether that was meeting us on a Sunday or getting us in the home before the holidays or helping us to get just the right counter top, or ceiling texture or bathroom tile. The fit and finish and little touches that you put into our home and the grounds around it make the home both livable and lovable. Lastly, the project came in on time and on budget.
The best part about working with you, Jeff, is that you are an honest person who does what you say you are going to do when you say you are going to do it. My wife and I have worked with other contractors, and I can tell you this is such a breath of fresh air. If we ever build another home or know anyone who is, the only builder is Watkins Home Builders!
Thank you for making our mountain dream home a reality.
Best regards,
Jeff Hook
My wife and I highly recommend Jeff and the Watkins Home Builders team. From the very beginning, Jeff has been so accommodating—meeting us on the weekends when we came to town. He has always had time for us, and responded to our numerous texts and emails in a very timely manner. His quality of craftsmanship is excellent. We loved the floor plan, the large windows, incredible porches, high ceilings, beautiful wood, etc.
As a real estate developer, I know that I can sometimes be a perfectionist. Working with Jeff has been a pleasure and a privilege. His attention to detail is wonderful, and he was patient with our requests, etc. He is a great listener, and was able to customize our cabin to our specifications. It is refreshing to deal with such an honest, hardworking person.
We asked Jeff if he could get the cabin done in time for Thanksgiving, and he was able to make this possible! We are thrilled with the final product, and beyond grateful to have worked with Jeff and his team.
Robert & Heather Hall
Our family had the privilege of working with Jeff & the Watkins Home Builders team to create our dream home in the mountains of Blue Ridge, Georgia. After looking at many new construction homes in the area, we chose Watkins Home Builders because the quality of the work and attention to detail with their homes.
Throughout the entire process, Jeff was always honest, extremely helpful and guided us to make the best decisions with our home. Jeff was extremely flexible and clearly communicated at each step of the process. While working through all of the final details, Jeff & his entire team went over and above to make sure we were satisfied and that our dream home became a reality.
We absolutely would recommend Jeff & Watkins Home Builders to anyone looking to build as well as our friends and family.
The Culver Family
My wife and I were interested in possibly retiring in the Blue Ridge Mountains of Georgia. We made some trips to Blue Ridge, Georgia to view property and look for builders. We had a realtor that we found online. We looked at used and new built homes. None of the used homes had what we were looking for in a home. We were fortunate enough to meet up with Jeff Watkins after searching online. We met with Jeff Watkins and toured some of his homes. I immediately made the comment to my wife that "this guy does it right". I ought to know because I grew up in the building trade. My wife was also thrilled and excited to tour his homes. She liked the design and quality that I noticed as well in the houses Jeff built.
We finally found an acceptable lot and Jeff was more than accommodating to find the time to look at the lot, before we bought it. We needed to know that it would fit the particular home we had in mind. It needed to have a good building site.
From start to finish the building process with Jeff Watkins was a wonderful experience. He is honest and listens to your needs and wants. He strives to make your dream home come true. I have had six homes built in my life and building with Jeff Watkins has by far been the best building experience.
He builds quality into his homes at the same time trying to keep the price affordable and within your budget. For some builders this is an incredibly hard task to do, but not with Jeff.
Jeff Watkins's carpenters are superb craftsmen and his subcontractors are knowable and reliable with the work they do. His vendors are great people to work with and flexible to your needs.
Communication is so very important in the building process and Jeff does a great job. He is always willing to talk to you and explain the building process. He was always timely and available to answer our questions. When we needed a decision made as to what to do, Jeff would offer his recommendations, expertise and advise.
My wife and I feel blessed to have chosen Jeff Watkins to build our home. Would I build with him again? Absolutely.
This guy does it right.
Jeff Erickson
After purchasing our lot in Ellijay, our search was on for a builder. We met with Jeff and told him our price range, our wants and needs. We went to look at one cabin he built and met the current owner. The owner of the cabin told us how much he liked Jeff and his crew. Also explained how professional they were and if he had to build again that he would choose Jeff. While walking through the cabin we really liked it and thought it was the plan we wanted. After talking about it that night it didn't feel like it was the plan we wanted. We talked to Jeff the next day and he wanted us to look at 2 more cabins he was building. Later that week we went to look at the 2 cabins and fell in love with one. It wasn't the floor plan we thought we wanted but after viewing it, we knew it was the one. It felt like home!
The building process was easy and the cabin was finished in time. We love our new cabin! We would highly recommend North Georgia Home Builders and have to friends that love our cabin and are interested in building.
Thanks Jeff!
The Bowkers,
Todd & Stephanie
We found our Watkins Home in the final stages of building, but we were able to customize some parts and to work with Jeff Watkins directly in the process. We feel that Jeff focuses on quality construction with an attention to detail that makes his homes both impressive and very livable. Not once I have I felt that I was in need of an additional outlet, light source, or closet! Since living in our home, we have needed his expertise a few times and he is always very responsive to address any minor matters and/or to refer us to his contacts for additional services. We have been very pleased with our experience and would certainly recommend Jeff and his team to others looking for a special home.
Thanks!
Robbin and Jeff Duren
Finding the right place to call home and a builder who was well-respected, flexible and conscientious was not an easy task. We were very fortunate to find Jeff Watkins after a long search that took us through several states over many months. He was highly recommended, and for good reason.
Because we were building while living 600 miles away, it was impossible to visit the site more than a few times during the construction. We were confident before ground was broken that the distance wouldn't be a problem. Jeff kept us up to date every step of the way, advising us of progress, seeking our input and making recommendations he felt were appropriate. We never felt left out of the process and found Jeff to be extremely responsive. He always considered any adjustments or ideas we presented during the construction, offered his opinion and helped us make the right call.
Our home more than met our expectations; we were certain that it would be beautiful but it was even lovelier than we expected. We can't recommend Jeff highly enough.
Mike and Theresa Bradford
We were so pleased with Jeff Watkins from the moment that we met him. He was patient, listened to us, and was always genuinely interested in our wants and needs. We knew that he was taking care of us! It should have been difficult to build a second home with very little time to check on things, but Jeff made it seamless. He was timely, organized, accessible, honest and just a pleasure to work with. His worksite was immaculate and we were very impressed with his attention to detail. And… we just LOVE our home!
The Halpert Family
It is without reservation that I highly recommend Jeff Watkins as the builder of your home or vacation cabin. I do so for a variety of reasons:
He works with you every step of the way from selection of plans, modifications and even after completion of the project.
Jeff's recommendations are sound and based on building a home that suits all your needs and future requirements.
He uses excellent sub-contractors and stands behind their work to ensure customer satisfaction.
Phone calls are returned in a timely manner. You are kept informed as to work progress, weather constraints, and any potential delays.
Honesty is a hallmark of his business. He is a "straight shooter" and a pleasure to deal with.
There are no surprises; he remains on top of all daily work completed by his crew or sub-contractors.
Betty Satterlee Elkin, NC
While searching for our first cabin in Blue Ridge, we had the opportunity to view a completed home built by Watkins Home Builders, overseen by Jeff Watkins. We liked the quality of materials, the selected finishes, and the overall design of the completed home. We were impressed and immediately asked to see one of Watkins' homes that was under construction. Jeff was able to work with us to incorporate the elements we liked from the completed home into the under-construction home, together with other opportunities for customization. We eventually entered into an agreement to purchase the home, impressed by the quality of construction and Jeff's responsiveness to our requests. The workmanship has proven to be excellent. Our interactions with Jeff were outstanding, both before and after the closing. He was well informed, reasonable, fair and honest.
We are also impressed that Jeff is constantly searching for ways to improve his homes. This became apparent on our inspection of similarly priced homes in the area. We have no reservations about recommending Watkins Home Builders.
Kevin L. Sullivan, M.D.
Patrick K. Freer, Ed.D.
We found our second home when it was only weeks away from being complete. After looking at many homes, we were impressed with the quality of work, attention to detail, and added touches that made his home stand out from the rest. I was amazed at the beautiful finishes he selected and care he took in selecting all of the details. You can see that he takes pride in his work and is a true craftsman. We could not have made better selections ourselves. Jeff is extremely knowledgable and has been very helpful in assuring we understood all of the nuiances with our new home. He has been a pleasure to work with and we could not be more pleased.
Scott and Kay Spruill
Blue Ridge
Jeff was always punctual and his quote was right on the money. Work was completed as promised and the worksite was left spotless. We love our deck addition and are considering using Jeff for our next home improvement project. Nice to do business with someone who does what he says without constant monitoring and reminding.
John Veith
Jeff, working with you on building our cabin in Coosawattee was a very pleasant experience. Thanks for your availablilty when we were concerned about something; you always returned our phone calls promptly. We are very happy with the superb quality of the cabin and love spending time there.
Pat Oberholtzer
We can't thank you and your people enough for the fantastic new home that you created for us in the Coosawattee River Resort development. In this day and age, it is so rare to have a positive experience with a builder during the construction of a new home that I believe it needs to be touted from the mountain tops.
We had been searching for a new home in the Ellijay area for many months, and from the first time I walked in one of your homes, I knew I had found something different than the "cookie cutter cabin" that abounds here in the North Georgia mountains. We were looking for a year round home, and you created that perfectly for us. From start to finish I was (and I still am) impressed with the way you conduct your business and the quality and conduct of each and every one of your sub-contractors. As we approached our home's completion and closing, we decided that we needed to finish out our full basement. I thought it would be impossible to get it done in time for the closing and that our move-in would surely be delayed. You didn't see it that way! To our total amazement, you completed the whole project on time and on budget. Thank you for a job well done!
Matt & Sarah Jones
Coosawattee
Dear Jeff,
Georgia and I have been very pleased, and impressed, with the quality of workmanship and attention to detail that is present in our new home. Also, we have been delighted with the cooperation and personal service you have given to the minor issues that we may have had. Likewise, you have been very attentive and cooperative during the project of completion of the build out of our basement. Your knowledge and guidance have been extremely helpful.
We have built many houses, and worked with a number of builders throughout the years, and you have been one of the best we have had the pleasure to work with. Having lived in the mountains in the past and gone through the experience of building before, it is a pleasure to have an honest, knowledgeable, and responsive builder. That unfortunately we have found is the exception, not the rule, in mountain builders. We would be more that happy to be a reference for you if you need one in the future.
Sincerely,
Fran and Georgia Pagliarulo
We love yours and our home. You did a tremendous job on this home. We have worked with so many builders and you truly go the extra mile to think of everything!!! Thanks Jeff for making this such a wonderful experience. Hope we can work together in the future!
Mike & Tracey
We love our new mountain home in Blue Ridge, right in the center of the Aska Wilderness with amazing access to great hiking, canoeing, and spectacular views from our own back deck in the Watkins' Little Creek development. We have built 10 + houses in 7 different states and this was by far the easiest and most enjoyable home building experience we have ever had.
At every stage from design to final walk through Jeff and his team made the process as smooth and effort free as possible. This is our "dream" family vacation home and the home where my wife and I will live full time in retirement, so we wanted to make every decision and choice – from floors to lighting – the fulfilment of many years of dreaming and collecting ideas. Every one of Jeff's team helped us translate our dreams into a final finished home that exceeded our already high expectations.
They were all the perfect collaborators and "coaches" during the selection process – they listened first, made suggestions when asked and were always masters of their individual areas. They presented us options, let us explore different combinations, were patient when we changed our minds or even when we went back to evaluate previously made decisions. We always felt they were accommodating our tastes while offering advice as needed or helping us through difficult design decisions.
I am not sure Jeff ever sleeps, he answered our calls or emails – always same day it seemed and usually within the same hour. We found Jeff to be the optimal builder partner – always direct, honest and responsive on any question or issue. He was also conservative but highly accurate in his estimates of how long each phase of the build would take and if any part was delayed why and how soon it would happen.
Finally, I have been forbidden to call our home a "cabin." Our family and friends to a person had the same comment the first time they visited our "cabin" – "this is not a cabin, a lodge maybe but not a cabin." We have the warmth and mountain views of a cabin, but the fine finishes, stunning visual appeal and custom appearance that reminds us of the National Park Lodges we fell in love with while living in and traveling across the Western states.
We absolutely would recommend Jeff & Watkins Home Builders to anyone looking to build as well as our friends and family.
Ben and Connie Cubitt
We have enjoyed working with Jeff as our builder. He is a knowledgeable builder and kept us on budget and on time.
We spoke to several other builders prior to choosing Jeff Watkins as our builder. My husband was happy to find a builder who could keep up with my ideas. Jeff also contributed several ideas which were incorporated into our plans.
Jeff has made building a house a pleasurable experience. He regularly updated us on the progress, managed the budget and produced a quality home where we plan to live for many years to come.
Judith
Jeff Watkins built my cabin in Coosawattee River Resort in 2005. He and his crew built a fantastic home, took no shortcuts to reduce the quality of the home, and completed the home on schedule with all the exact specifications I had requested. After I moved in, I found some very minor items that needed to be looked at. After phoning Jeff, he was at my cabin within twenty minutes and the small problems were corrected within a day.
If you want a quality cabin built in a beautiful resort, I would highly recommend using Jeff Watkins, not only as your builder, but as a source for your lot also.
John M.
When we first decided to build a house in North Georgia, we searched high and low for a builder. Because our house was small, (1,300 sq. ft.) most other builders wouldn't even call us back. Being in South Florida and in law enforcement for over 20 years, we knew it would be a challenge finding a builder we could trust… until we got lucky and found Watkins Home Builders.
We have known Jeff and Gina Watkins for about 5 months now, but it only took about 5 minutes into our first phone call to realize that we found more than just a builder in the Watkins, we found two dynamite people that are tremendously trustworthy. Most of our dealings in the beginning were done via telephone and without actually meeting. You could tell from talking to Jeff that he was quite experienced, very knowledgeable and flexible. We value his opinions greatly and feel that we have learned a lot about building a home in the mountains.
Jeff and Gina have been amazing and they are always accessible and friendly. Everyone that has visited the construction site has called us and told us how amazed they were with the cleanliness, speed and craftsmanship of our homesite. Jeff and Gina have sent us photos and kept us appraised of the progress throughout the process. Now that we have visited the site a few times, we could honestly tell you that we have been extremely pleased and satisfied with everything the Watkins have done for us.
This has been a very exciting time for us and though it is difficult building a home while living 1,000 miles away, we could not think of anyone else besides Jeff and Gina that we would entrust with the task. We highly recommend Watkins Home Builders!
Sincerely,
Craig & Tiffany Richards
Watkins Home Builders,
We just wanted to say how much we appreciate the effort and craftsmanship your company has put into building our home. The quality, fit and finish were second to none. When we were looking to buy our cabin home, we compared many designs, floor plans and locations. Once we found our cabin, (Hunter's Hideout model), we immediately fell in love with it. The sale was smooth and hassle free.
We are equally as pleased with your service after the sale. On a few occasions, we had questions or something fine-tuned, there were no excuses and a service call was set up without delay. You cannot ask for better service. We will continue to recommend your company to anyone looking to build a home in the area. Please feel free to use us as a reference.
Roger & Laura Valdivia
We were looking for a family retreat in the N. GA mountains.  After months of searching, we found the perfect lot and were lucky enough to be introduced to Jeff Watkins of Watkins Home Builders.  We knew after the first meeting that Jeff was a builder with capability and integrity.  He worked with us patiently through the custom design phase and accommodated significant last-minute changes to assure our new home would be exactly what we envisioned.  The subcontractors that Jeff employs are top notch – skilled and professional in every way, and Jeff managed his suppliers to assure our project stayed on schedule and on budget.  We have been in our new mountain home for a year now and enjoy it far more than we could have ever imagined. Our sincere thanks to Jeff!
Mike Levi
MadLife Group
Having built many houses with a variety of contractors over the years, we knew what we were looking for in a homebuilder. A custom builder would be great, but could we afford it? We knew we wanted a builder who would be environmentally sensitive with an attention to detail to build us a high quality, energy efficient and affordable home. Not an easy search. Thankfully, with our lender's recommendation, we found Watkins Home Builders. Jeff is highly experienced, methodical, efficient, precise and, above all, honest. His subcontractors are excellent and dependable. His suppliers are reasonably priced and allow for a wide range of custom features. Jeff believes in doing things right the first time, communicating fully every step of the way. Timelines are reasonable and respected. There are no disappointing surprises. The result is a gorgeous, finely constructed custom home.
-Sandee Dawdy
After searching for a home in the North Georgia Mountains, with the help of our agent, we found Coosawattee and Watkins Home Builders. Our home was under roof however Jeff afforded us the opportunity to make selections that would allow our home to feel like a custom built. Jeff was great to work with as he guided us through the selection process and was very patient as we worked with our designer. With Jeff's knowledge of the area, he was able to coach us on finishes that were skills of the local labor. When decision needed to be made, Jeff contacted me directly. This process worked great for all of us. We have confidence knowing our home is very well built! We love our 'custom' built home by Watkins Home Builders.
– Lynn Rieck
Jeff Watkins Home Builder just completed our custom build, and we couldn't be happier! The quality of the work is excellent, and Jeff did a fantastic job managing the project and coordinating his subcontractors. We were very impressed, and we love his subs!
Jeff is honest, professional, easy to work with, attentive to detail, and responsive to questions and concerns. Jeff met the schedule he told us from the very beginning, and he was especially helpful in guiding us through making selections of materials and equipment throughout the job. 
Our build was a fabulous experience, and we give Jeff our highest recommendation! 
Thank you Jeff for all your hard work and for making our dream a reality.
– Annika & Mark H. 
After purchasing property in Ellijay in early 2018, our realtor recommended Jeff Watkins for building our home.  Upon first meeting Jeff at the realtor's office, we got a really good feeling about him.  He's a no nonsense kind of guy. He looked over our plans from a Connecticut architect and liked the overall design.  We agreed on making changes to fit our budget and the layout of the property.  He helped site the house and then the design was modified to accommodate the land.  
Everything he suggested was right on and he explained all of the changes in detail.  He answered questions regarding construction and was agreeable to some specific construction requests.  And he was very conscious of our budget.  Jeff's suggestions were detailed and he always offered options.  He was open and honest and we were trusting enough to just rely on emails ( to accomplish some decisions he needed when we were not available).  We lived in Connecticut (over a 1000 miles away)until moving to Ellijay.   Our relationship with Jeff made the construction process smooth and worry free.   He's very conscientious about answering emails or any questions about the home.  After the project was completed, he's been great about follow through on the equipment installed in our home.  
Our home is beautiful because of his attention (and his craftsmen) to detail.  The people assigned to various aspects of the home during construction did a great job and liked working under Jeff's direction.
In short, Jeff has given us the house we have always wanted and we really appreciate the fact it was hassle free.  
Bridget and Peter Beck
Our experience with Watkins Home Builders was outstanding. We were referred to Jeff and were very impressed when we met with him. His team is extremely talented and great people to work with. Jeff is detail oriented and had excellent communication with us. We feel that Jeff is simply the best. We asked him to build our dream home and he exceeded our expectations!
Highline Drive 
Jay & Mary Cannon
We have just moved into our new home in Falling Waters, built by Jeff Watkins and Watkins Home Builders.  We are very pleased with every aspect of our home as well as the building process from start to finish.  We first contacted Jeff after seeing one of his homes in Falling Waters.  We were immediately impressed with his prompt response to our phone call and his willingness to meet with us and tour several of his homes in various stages of completion.  He answered all questions and continued to meet with us as we had our floor plans drawn up.  Jeff was always patient, flexible, and respectful.  He listened and also gave very good suggestions based upon his years of experience.  After our first meeting with Jeff, we made the decision that he would be our builder.
Throughout the building process, Jeff communicated very well with us, responding to emails or texts that day.  His organization was amazing as he had his subcontractors scheduled well in advance and let us know what decisions would be needed and when.  His subcontractors have been with him for many years and are all excellent and skilled craftsmen.  We visited the work site 2 or 3 times a week and were continually impressed with the high caliber of work and the obvious pride of workmanship.  The work site was also kept immaculate. 
The quality of all work is of the highest standard, above expectation, and Jeff always does things the right way.  In addition to the quality of his work, we are so impressed with Jeff's integrity and work ethics.  He has a golden reputation in the community of being honorable and trustworthy, both as a builder and as a family man.
Jeff built us our dream home in the mountains and was able to get us in before Christmas!  We are happy to recommend him, without hesitation.
Mike and Debbie Davis
Shelly and I bought some property in the Jasper/Ellijay area and began the process of finding a builder. After searching for builders, we found Jeff Watkins's web site. We consulted with a friend that has a business in the Ellijay area, she sent us only one name of a quality builder she would recommend, Jeff Watkins. After meeting with Jeff, we knew from the start we had found our builder. He recommended a plan for us for our lot and some adjustments to the plan he recommended for our build.
The process and progress was more than we expected, Jeff was available to communicate with us through e-mail and text when ever needed. He took time to explain details at each point during this process that helped us to make decisions based on his experience. We visited the build as much as possible (we live 70 miles away) and found that the build site was very tidy every time. We also met some of the contractors he used and found them very friendly and forthcoming.
Jeff and his years of building homes helped us through this process (our 1st home building experience) with assurance, excitement and understanding of what we wanted in this home and to make this a less stressful experience than we imagined in building a second home.
Shelly and I would highly recommend Watkins Home Builders to anyone that is considering building a home.
Avery and Shelly Oakes
Duluth, GA
My husband and I are so glad we found Jeff Watkins to build our home. We had interviews with 6 builders and after meeting with 3 we met Jeff and we cancelled the rest. He struck us as honest, knowledgable, and respectful. He had more experience in building then any of the others we had appointments with and he has lived in the area longer which to us translated into knowing the terrain better. Many people we talked to in Blue Ridge knew him and respected him and said he was good to work with which they were right. This was our first home building experience and we really didn't know what to do. He helped us get blue prints, told us who we could trust for a construction loan, and guided us through the permit process. During the construction he helped my stay on budget which I needed at times. I had a vision for my home that he at times questioned, because I have unusual tastes, but in the end the house looked exactly like I had envisioned from the start. Jeff gave me direction as to who and where to go to find my materials and he seamlessly coordinated with the sub contractors. I am amazed with our house now that it is finished and I couldn't be more happy. Jeff had made the entire process enjoyable, yes enjoyable, and we are very pleased we had the good fortune to meet and work with Jeff. I highly recommend Jeff Watkins to anyone who is thinking of building a new home.
Christine Brunner
After looking in the Blue Ridge area for approximately 1 ½ years, we came across a framed cabin in the Aska Adventure area. We had never heard of Jeff Watkins, but quickly found out that his reputation was one of the best in the area… high integrity, detail-oriented, responsive. He is everything you would want in a builder and more!!! Our experience with Jeff was very positive. He was so patient and calm through the whole process. He always responded quickly to our questions and guided us through the process. His worksite was immaculate and his subcontractors were top-notch!!!! Our cabin turned out BEAUTIFUL!!!! After closing, we quickly realized how livable the cabin is with so much thought given to placement of outlets, lighting, storage, etc. I would highly recommend him, and if we ever decide to build another cabin in the future, he is our choice for a builder!!!! A+++!!!!
Michelle McDonald
During our search for a family cabin we happened upon one of Jeff's cabins and immediately knew it was the one for us. The great design, use of different types of beautiful materials, and attention to detail placed it above and beyond the others. Jeff was excellent to work with; always friendly, honest, and conscientious.
During the construction process, Jeff listened to our requests and fielded our questions with prompt email or text replies. He was on time for all meetings, including those with subcontractors, and saw that all our changes were completed as requested. The cabin was finished on the date promised with no open issues, and was nicely cleaned and looked incredible for the walkthrough.
We highly recommend Jeff as a builder, he exceeded our expectations.
The Hughes Family
In the last month, we have completed and moved into our new cabin. When we first started this journey, my husband and I sat down to pray about the right cabin, the right site, and the right builder. Due to a very bad experience with our first home, trusting a builder was a challenge.
The experience we've had with Jeff has been awesome. He is very trustworthy and skilled! At the beginning I told him I would have several custom change requests, but I would rely on his experience and knowledge to guide me on whether to proceed on those changes. I valued his advice when he said "not a good idea"; and I really appreciated the times he worked with us to make a dream come true. I am a perfectionist and met my match with Jeff and his attention to detail. It is often the finishing touches that make the difference, and Jeff did not fail on any detail. He stayed involved during the entire process. All the subcontractors we met are solid, quality people that are a joy to know and work with.
I would not hesitate to highly recommend Jeff to anyone. Realize that he will listen to you; and, as an owner, listen to him due his vast experience in building. Thank you, Jeff, for a job well done!
The Lesho Family
We spent almost a year looking for our dream home in the North Georgia Mountains. We came across a spec house that Jeff was building and fell in love. He was great to work with. We had no experience building a home. He was very patient and provided excellent recommendations and advice, but was never pushy or overbearing. He was always willing to share ideas, many of which we included in our home. We did several upgrades and changes and he was always open to working with us on our ideas and helping us make them happen. We are very pleased with the quality of our home and spend as much time there as we can. It is our dream come true. We are very glad we had the opportunity to work with Jeff and his team. We hope we get the chance to work with him again in the future. He is truly a quality builder who we would recommend highly.
Sincerely,
Dawn and Paul Carlson
After narrowing our search for a second home location to the Aska Adventure area of Blue Ridge, we viewed several homes in various stages of construction. As soon as we saw a couple of homes that Jeff Watkins had under construction, his became the standard to which all others were compared. We think that it says a lot about Jeff's character that purchasers of his homes seemed to have no problem having him use their completed homes as a "model home" for other potential purchasers. From the outset, it was clear that Jeff's values include honesty, integrity and fairness as well as a commitment to building the best quality home possible.
We were concerned about managing the process of building a new home 95 miles away from our primary residence, but Jeff made it easy. He provided a schedule letting us know when various finish selections had to be made as well as recommended finishes and vendors, which made the process most efficient and painless. In addition to producing solid, well-built home, Jeff has a great eye for aesthetics and made several suggestions that were very helpful. It was also wonderful to visit the job site and find it always clean and orderly.
From the initial lot selection to the closing, Jeff has been unfailingly pleasant and patient. Knowing that we were anxious to get moved in before the holidays, he worked tirelessly to complete our home by our desired closing date. If we decide to retire to Blue Ridge, Watkins Home Builders would be our first choice to build a larger primary residence. If you are thinking of building a home in the area, we wholeheartedly recommend him.
Mary & Mark Judson
Atlanta, Georgia
Having built five previous homes and purchased two in various stages of completion, we have had a wide variety of experiences from lawsuits to lasting friendships. Our experience with Jeff Watkins was indeed one of our very best.
At the outset we were pleased to find the worksite was being maintained in a clean/uncluttered manner; no excess materials were ever found on the property. That fact alone left us with a sense that Jeff and his crew were quality oriented and cost conscious.
For us, working with Jeff either in person, telephonically or by email always proved to be a congenial experience. He was both knowledgable, as well as professional and eager to ensure that he fully understood our specific requirements. This was extremely important to us as we were several hundred miles away and made few trips to Blue Ridge.
It should also be noted that Jeff's choice in subcontractors also proved to share his concern for quality workmanship. Jeff devoted an entire day to take us from one subcontractor to another as we made our selections; by doing this, it further convinced us that we would be pleased with the end result. And again, we also knew if there was any question, Jeff would contact us for clarification.
Lastly, it's important to mention that Jeff finished our cabin two weeks ahead of schedule and there were no surprises at closing. As we continue to spend more time in Blue Ridge, we will definitely use Jeff for any additional construction projects we might have.
Joe and Johnsie Brown
We found Jeff by visiting one of his homes while it was still under construction. We had also visited a Watkins Home Builders spec house that was on the market. We were impressed with the quality of workmanship and attention to detail. After meeting with Jeff, his professionalism and knowledge of building a mountain home convinced us to use Watkins Home Builders to build the home we wanted. Jeff worked with us to find a lot we liked and to combine and modify several of his house plans to build our home.
We were concerned with building a home 600 miles away, but Jeff was very easy to work with. He continually kept us informed of progress and decision points with regular phone calls, emails and pictures. He was readily available to provide guidance and informed timely responses to any questions. Jeff provided a detailed check list with allowed costs for the basic materials such as floors, cabinets, counter tops, appliances, fixtures, etc. We were able to shop locally and provide catalog numbers for our selections. Jeff provided clear, accurate cost estimates for any modifications and change orders. We were able to work with Jeff to schedule the on site meetings at times that were convenient to us. Jeff and his sub-contractors were always very friendly, professional and helpful during these walk through visits.
We are very pleased with the quality and look of the final product. There were no surprises and he finished on budget. We would recommend Watkins Home Builders to anyone building a new home.
Johnny and Darnel
2305 Eagle Mountain
I met Jeff Watkins in early 2010 through his web site, and after a few communication exchanges about floor plan offerings and costs, I later arranged for a May 2010 tour of several "cabin" type houses he had constructed. I was impressed with his personable courtesy, business style, and detailed responses to that fact finding trip, and with attention to details of the varied houses I viewed at the time. I subsequently contracted Jeff to build a house for me, and I am highly pleased with the end result.
Jeff's approach to a build process is detail oriented, timely, thorough, cost conscious, and customer friendly. He was accommodating, informative, and helpful regarding my input and concerns throughout the process. And although my house is modest in terms of affordability and features, the outcome surpassed my initial vision. If I were fortunate enough to engage in another house construction endeavor, I would not hesitate to hire Jeff for the project.
Russ Bielich
Eagle Mountain (Coosawattee), Ellijay, GA
Having vacationed in the Ellijay area several times, we decided it was finally time to retire and knew where it would be. We were just not sure how to accomplish the transition. It seemed that in the current market we should be able to locate a house on property with a creek. Kathy always wanted a creek so this was a given. We searched the Internet and visited several Realtors. Unfortunately, even though there were many houses for sale, the owners wanted more than we were willing to spend. As a Certified Real Estate Appraiser I knew pretty well what the properties would sell for. Owners still felt that they wanted or needed a higher price.
We switched our approach and looked for property on which to build. A few more visits and we located and purchased a lot with Kathy's creek. We, despite all our moves over the years, had never built a house so we were somewhat leery of the process. At the same time as our search progressed, we sketched floor plans and revised and revised. Even after 50 years together we still saw some things differently but our basic ideas were similar. We visited several national builders as well as several local builders to discuss what we were looking for, including our thoughts on cost and cost control. Our experience was that the large companies would quote a low base price but once asked about modifications the prices went up and up. The other local builders quoted higher prices and we were not at all comfortable with what they were saying about costs and schedules.
We met with Jeff and the story was entirely different. Kathy and I both felt we had found someone we could work with and rely on to protect our interests while we were 600 miles away. One last concern was whether he had the financial stability to complete the job under today's economic conditions. A visit to the bank put those concerns to rest. They told us that they have worked with Jeff for years and that they had no doubts about his abilities and reputation for integrity.
Following the "thumbs up" from the bank, we were able to discuss with Jeff various options and alternatives and what they would cost. In some cases he said there was no difference in cost; in others, he quickly gave a figure and normally any differences were modest. The only portions of the project that were higher than initially anticipated were ones that we had both recognized as possibilities because they related to the soil and septic system. Jeff took care of these and only charged us the increased cost to him.
The building process proceeded better than we could have imagined. We were on budget and ahead of schedule even with lots of poor weather. If we had questions, Jeff had answers. We spent time discussing alternatives and were able to handle material selection, cabinets , fixtures etc. during our visits or by visiting Lowes or Home Depot in Florida. When we needed local information either Jeff or Gina were there to help with info and contacts.
You could not locate a better more reliable builder than Jeff Watkins. You can rely on Jeff to give you the straight story on anything and suggest options and propose alternatives that are in your best interest. He is a builder of the utmost integrity and honesty and will provide you with a home you can be proud of, as he did for us.
Bill & Kathy LaSalle
Formerly from Lakeland, Florida
Watkins Home Builders has given us a wonderful, spacious home with great bathrooms, kitchen, porch, and wonderful, true wood feeling. The first look at my home left me speechless and with a great feeling that I had made the right choice when I picked Watkins Home Builders.
They have made my dream home from a print out selected and we where given every chance to choose every detail, color, texture, and wood work as possible. We would receive a call for every little thing that had to do with the home and with the paper work of the house. We had full trust on Watkins Home Builders with us being so far away from the construction site. We also loved the fact that Watkins is a family-run business and they have been working on homes for several years. Having them work on our home has given us the true feeling of trust in contracting. We have nothing but wonderful words and feelings for the on-time work that has been performed on my home and many others that I have seen.
They are the best in home building and we are so grateful for the wonderful job and things they have created in our home.
Thank you so much for giving us our dream-come-true home. We are very appreciative for what you have done for us.
Thank you,
Adams Family
Building our cabin with Watkins Home Builders was an unexpected pleasure. With all the horror stories of my friends and family with their building experiences with other builders; from over-budgets, delays, poor workmanship, and the dreaded no-call-back. NONE of which I experienced with Watkins. Jeff was so helpful with our lot selection, floor plan, upgrades, and a lot of questions.
Building a new home is supposed to be a fun, enjoyable experience, and Jeff certainly made that a reality. Their attention to detail is key. Thanks, Watkins.
Sincerely,
Rick Conrad, Pine Island, FL
After we bought our property in the North Georgia Mountains we interviewed several local builders to prepare for the building of our dream home. Our property is a little ways out of town and I got the impression from some of the builders that they did not want to build that far out, Jeff never batted and eye at building a house at our remote location. Jeff walked us thru a couple of his recently completed homes and explained everything that would be done in detail and answered all of our questions, during this process Jeff also introduced us to several of his recent clients. When walking thru his homes they just felt solid and well built as compared to the other builder's homes. By meeting and talking to his past clients it gave us a tremendous amount of confidence to hire Jeff as our builder. I sometimes wonder how many other builders are willing to introduce you to their past clients.
We picked our house plan out which was a single story ranch house with a full walk out basement and a single car garage. We requested several changes to the original design and Jeff put together the estimates and even suggested some changes that we incorporated into our house design. During the building process Jeff kept us abreast of the progress with phone calls, emails and pictures. We always looked forward to receiving and viewing the next set pictures that he would email us. We made several trips up during the process and Jeff would always spend as much time as necessary with us to make sure that we had all of our questions answered and felt comfortable before we departed. During these trips we meet several of his sub-contracting crews and they were all very nice and accommodating people, all of the crews seemed to give an extra effort to maintain a clean job site. After completion of the house Jeff even installed and additional drain culvert under the driveway after he saw what could become a drainage problem in the future, he did this without us asking and he even picked up the cost. I don't think too many other builders would have done this.
Jeff is one fine individual and a great home builder to work with; and the man is as honest as the day is long. The building of our dream home was truly an exceptional and exiting experience and we would highly recommend Watkins Home Builders!!!!
Sincerely,
Roger and Pam